A CHAMPION'S PEDIGREE
D.O.M.E Motorsport & Engineering was set up in 1989 by Dennis Osborne whose vast engineering experience - accumulated since his engineering apprenticeship in the 60's and over forty years in the motorsport environment - has seen the company producing winners all over the world.
Cars prepared by D.O.M.E. have been successful in countries as far apart as Japan, Peru, Greece, Paraguay, Argentina, Turkey, Holland & France.
The last few years has seen Dennis concentrating more on specialsed engineering work for various overseas customers and UK design houses producing concept and prototype projects.
The last decade has seen DOME undertake preparation work for clients in various disciplines of Motorsport including race cars, endurance bikes, 4wd conversions to production vehicles.
The famous Trans-Chaco Rally in South America was won by D.O.M.E. prepared 4wd cars in both 1999 and 2000.
D.O.M.E cars secured the Peruvian tarmac and gravel championships in 1997, 1998 & 1999, as well as Turkish gravel and ashpalt championships in 1996/97. Particularly pleasing was winning the famous 1998 Caminos del los Incas Rally in South America, an event of some 4000kms in seven days in the high Andes and still claimed as the last remaining classic long distance rally, the win was repeated in 1999.
1998/99 saw a win in the British national GpN championship along with various outright wins at International, National and Clubman Level secured in D.O.M.E. prepared cars.
Closer to home overall honours were taken in the inaugral "Ford Ka Rally Championship" again in a D.O.M.E. prepared and run car.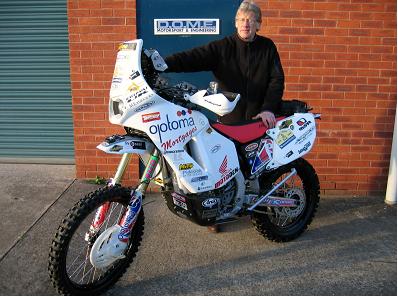 Previous successes include the 1993 British National Rally Championship and 1992/94 Scottish Championships were claimed by D.O.M.E.-built Escort/Sierra Cosworths.
Parts supplied by D.O.M.E have been exported to in excess of 26 different companies world-wide.
Dennis, himself, started his career as an engineering apprentice at the Austin factory in Longbridge, spending his spare time building Cooper and Cooper S versions of the famous mini. In the intervening period, in addition to rallying, he has worked in most disciplines of motorsport, including the British Touring Car Championship, Metro Turbo Challenge the Rover Tomcat Series and single-seater racing....
In addition to the construction of complete cars, Dennis has also made a name for himself with the preparation of transmissions - gearboxes and axles - both for rallying and racing. "D.O.M.E Transmissions" are well respected and much used in the sport today both by works and private teams alike.